According to the BBC article, "Pence v Kaine: Who won the vice-presidential debate?" by North America reporter Anthony Zurcher, "It was a scattershot debate marred by frequent interruption, where moderator Elaine Quijado lost control of the discussion for stretches."
Having your cake and eating it looks something like this: An ambitious woman of color, in debate with a white man, proves the place of accomplished and courageous women of color in the rough and tumble world of political argument when she takes charge of a conversation and interrupts her opponent. But when her opponent interrupts her, which white men do all the time in argument with other white men (as occurred in the Vice-Presidential debate held on October 5, 2016 between Republican Mike Pence and Democrat Tim Kaine), the ambitious woman of color can accuse her opponent of "mansplaining" and "microaggressing," of which he is guilty by virtue of his sex and race.
This is the beauty of identity politics. It is a clever strategy. The woman of color delegitimizes her ideological opponent while scoring unearned debate points via the extra-rational means of ad hominem and red herring, cleverly avoiding answering questions or saying much of anything of substance and asserting superior moral virtue. After the debate, her side, which largely controls the narrative and the major institutions, can distract the public from all her lying and misdirection on critical policy questions by howling about sexism and racism—by portraying her as the victim of white male aggression. Her hefty record as the Attorney General of California and United States Senator notwithstanding. If critics describe her approach and attitude as "abrasive," "arrogant," "condescending," and "smug," the woke crowd can accuse them of sexism and racism for that, too.
She and her allies can do all this with absolutely no evidence of either sexism and racism and in the face of clear evidence that her opponent would do the same thing if she were a white male (again, as Pence did to Kaine). She and her allies can do this even though her appearance on the national stage—along with many other women of color—is confirmation that sexism and racism are, for the most part, no longer barriers to an ambitious woman's rise to political power. For they find advantage in a quiver of magical arrows that only individuals lying at the intersection of her identities may wield. There is a caveat: the women of color must hold the correct opinions. We all know that, in the progressive universe, conservative women of color are only one of those things really.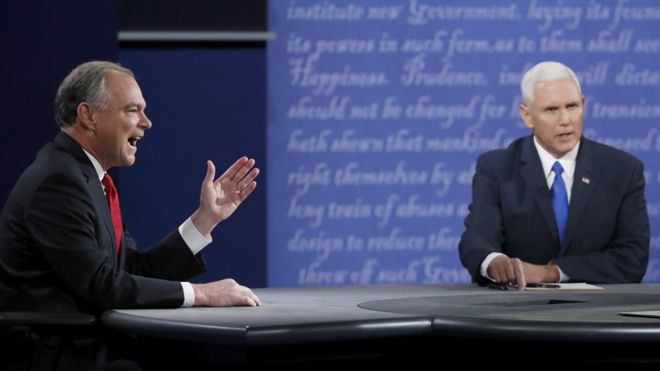 Interesting how we find ourselves four years and a few days later in a similar situation: "For the last week, it's felt a bit like Donald Trump was routed. His woeful first presidential debate performance was compounded by a series of unforced errors, capped by an early morning Twitter tirade and a damaging New York Times story about his near billion-dollar business losses in 1995. His poll numbers headed south. The Republican vice-presidential nominee's [Pence] primary job—really his only job—was to stop the bleeding and give the [Trump] campaign an opportunity to regroup. Mr Kaine's goal was to keep him [Pence] from doing that. Mr Pence succeeded. Mr Kaine, while unloading a crate of opposition research on Mr Trump, failed."
But it is not exactly the same situation, is it? Tim Kaine is a white man. Too bad for him that he couldn't charge Pence with mansplaining and microaggressing after his poor debate outing.